ARTICLE
This Indian company joined hands with Thailand's iRETREAT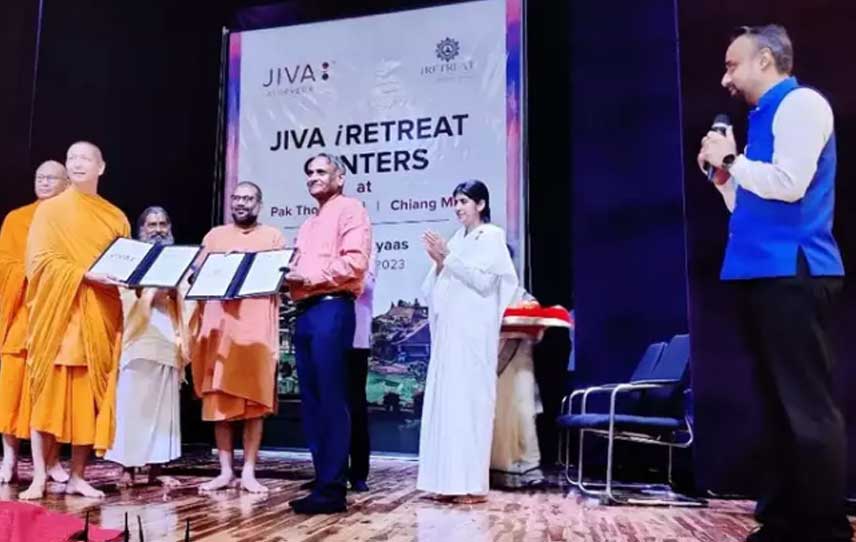 New Delhi: Jiva Ayurveda, a company in the Ayurveda and wellness sector, is now becoming a global company. The company has announced the setting up of one wellness center each in Thailand's mountainous region of 'Pak Thong Chai' and northern forest region of 'Chiang Mai'. For this the company has joined hands with iRETREAT. iRETREAT is a Thailand based company that operates in the wellness sector.
Entry into South East Asian Countries
Rishi Pal Chauhan, chairman of Jiva Group, says that he is going to South Asian countries for the promotion of Ayurvedic methods and Ayurvedic products. In this sequence, it has started from Thailand. Right now an agreement has been signed with Thai company iRETREAT. Under this agreement, it has been agreed to open two centers there. These will be established in Thailand's mountainous region 'Pak Thong Chai' and northern forest region 'Chiang Mai'. After this, work will be done to open centers in other areas as well.

Will be global public welfare
500 experienced Ayurvedic doctors
Jiva Ayurveda was established in the year 1992. The company claims that it has a network of 500 experienced Ayurvedic doctors and healthcare professionals. Its centers are receiving more than 8,000 patients from 1,800 cities and towns in the country. In addition, Jiva operates 80 integrated centers across 17 Indian states, supported by three dedicated MRCs for intensive experiments and trials. iRetreat Wellness Meditation is Thailand's leading center for inner transformation and mindfulness. It was founded by Buddhist monk Luang Pi Duc.
Vaidya Rajesh Kotecha, Secretary, Union Ministry of AYUSH, says that he congratulates Jiva Ayurveda and iRETREAT for their joint effort to promote the traditional wisdom of Ayurveda and the transformative power of meditation. India is committed to share the vast knowledge of Ayurveda for the larger global public good. Since the inception of the Ministry of AYUSH, the Government has aimed to act as a catalyst in making traditional medicine accessible to more people, imparting knowledge and promoting its global reach. Through such unique initiatives, the government aims to enable the world to realize the true potential of Ayurveda and meditation. This will ultimately lead to a healthier and more balanced world.